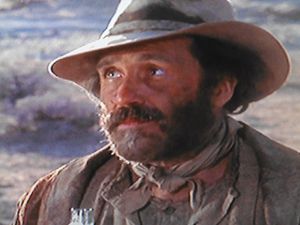 Drama, directed by : Sam Peckinpah, cast (in the list) : Jason Robards, Stella Stevens, Strather Martin, David Warner, Kathleen Freeman, James Anderson, William Mins, Susan O'Connel, screenplay : Gordon T Dawson, Edmond Penirey, John Crawford, soundtrack : Richard Gills, Jerry Goldsmith, Producer : Sam Peckinpah, Gordon T Dawson, co : William D Farelli, executive : Phil Feldman, associate : Gordon T Dawson, director of the photography : Lucien Bollard, editor : Lou Lombardo, Franck Gentillo, set designer : Jack Mills, press : Elise Grand, production : Warner Bros, 1970, 121 mn.
"The ballad of Cable Hogue" is a film shooted by Sam Peckinpah in 1969 in the Arizona desert. It shows us a period that Sam Peckinpah really like : the wild west. The soundrack appears again in the John Cale's album "Helen of troy" in 1975 and also in the album "Hot rail" recorded by the Calexico group in 2000. The song "Butterfly mornings" created by Richard Gillis appears again in the "Bavarian Fruit Bread" album of the Hope Sandeval and Warm Inventions group.
Cable Hogue walks alone toward the desert. He stops and try to kill a lezard for eating but he can't do it because two men one with a gun and the other with a riffle steal his food ans his water. These two guys leave him alone. Cable Hogue walks four days until the end of his strength but he falls down and seems to be dead. But he succeed to find a spring. Finding that spring helps him to stay alive. This brainwave gives him an idea. Near this spring many diligences go towards the country. The persons who are inside and the horses too need something to drink. So he can sells the water to the travellers and the animals. He kills a person who don't want to pays something for drinking and meet a pastor Joshua who have a special interpretation of the bible. He try to seduce all the girls for having good time with them.
Joshua gives him an advice. Cable Hogue should go to the next city for making a title deed. Cable Hogue follow this advice but he has just two dollars with him and he just can buy two acres of desert. For growing his own property he has to look for associates. He begins to go and to speak with the man who lead the diligences company in the city but that guy refuses to help him. After that he goes to see the director of the bank. That guy accepts to give him one hundred dollars. Cable Hogue meets also a prostitute called Hildie. She has a secret dream : go to San Francisco for being married with a rich man. The business of Cable Hogue becomes higher after he has signed a contract of exclusivity with the diligence company and Hildie decides to leave with him.
Hildie has always one dream : going to San Francisco for finding a rich man. The pastor Joshua must go away because an unfaithful woman has said to her husband what she has done with the pastor and he wants to kill the pastor. Cable Hogue stays alone for the second time but he finds again the two men who has left him into the desert. Cable Hogue succeeds to kill one of the two and capture the other one. Few months after a car arrives with two persons inside. It's Hildie. She has succeeded to get married with a rich man but her husband died of an heart attack. She wants to take Cable Hogue with him for going to New - Orléans. Cable Hogue agrees but before going he his run over by the car.
Apportez moi la tête d'Alfredo Garcia - artetcinemas.over-blog.com
Policier, Triller, Action, réalisé par Sam Peckinpah, avec Warren Oates, Isela Vega, Gig Young, Ashort Webber, Helmut Martine, Emilio Fernandez, Kris Kristofferson, Donnie Fritts, scénario : Sam...
http://artetcinemas.over-blog.com/2014/10/apportez-moi-la-tete-d-alfredo-arias.html
The Ballad of Cable Hogue (1970)
Directed by Sam Peckinpah. With Jason Robards, Stella Stevens, David Warner, Strother Martin. A hobo accidentally stumbles onto a water spring, and creates a profitable way station in the middle of
Jason Robards Sr., Actor: Mr. Blandings Builds His Dream House. Famed American stage actor. Trained at the American Academy of Dramatic Art. Appeared in many films, initially as a leading man, then
A native of Hot Coffee, Mississippi. While attending Memphis State College, Stella became interested in acting and modeling. Her film debut was a bit part in Say One for Me (1959), but her ...
David Warner, Actor: Titanic. David Warner was born on July 29, 1941 in Manchester, England and once described his childhood as "messy". His father changed jobs often and moved from town to town ...
Pour être informé des derniers articles, inscrivez vous :