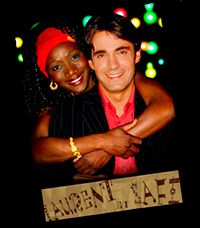 Drama, directed by : Anton Vassil, writing credits (in alphabetical order) : Maïmouna Coulibaly, Anton Vassil, cast (in credit order) : Tatiana Rojo, Xavier Jozelon, Teeyah, Michel Gohou, Guimba, Fantani Touré, Innocent Versace, Nico Rogner, M.Wayne, Habib Dembele, ..., produced by : Fabienne Copelier, Bernard Stroiazza, Anton Vassil, music by : Jean - Eudes Beaugé, John Lee Heril, film editing by : Anton Vassil, costume design by : Ferouz Allali, makeup department : Floriane Jumare, ..., production management : Maïmouna Coulibaly, Carole Croquevielle, Anita Klafczynski, Maka Moussa, Lu Cheng Ying, ..., sound department : Remy Gaultier, ..., camera and electrical department : Nasser Rachid, Ding Wei, ..., music department : Jean - Eudes Beaugé, Paola Bondi, Déné Issébéré, Noumoudjan Kouyate, Anton Vassil, Thomas Verovski, other crew : Philip Bloom, Wang Di, Biba Diallo, Thomas Klasinski, Clovis Libert, Maka Moussa, ...
The Anton Vassil's musical film "Laurent and Safi" proposes to the spectators a modern version of a fairy tale. Laurent performs as charming and Safi performs as a princess. The movie speaks also about the interracial weddings in France where they aren't totally accepted. This may be explains why any french distributors don't accept to support this movie. Safi is a young malian girl who wants to find a true love but she isn't lucky. Her family imposes her a cousin Omar as husband and a boy names Innocent tries to seduce her but he is silly.
Under the advises of her best friend Raymonde she decides to use a specialized website for finding the good man. Laurent a young man from the upper class is going to get married with a rich young woman. He is ambitious and considers his wedding as an opportunity but his best friend Eric makes a bet with him. Eric proposes to Laurent to meet an african girl for having sexual relationships with her as giving a bachelor party before his wedding. Eric makes the pression on Laurent for inscribing him on a specialized website who is the same where Safi is. The both finish by meeting themselves.
Laurent invites Safi for having a drink in a bar and he tries to kiss her on the lips but she doesn't accept that during the first meeting. Laurent is seduced by Safi and he decides to bring he in a party organized by Eric. Eric is very unpolished with Safi. He tries to seduce her and he clearly explains to Safi that she will never belong to the same social sphere as the Laurent social sphere. Safi goes out speedly but Laurent runs after her. A love affair begins between the both in spite of the disapprobation of the both families. The father of Laurent is a very authoritarian person and he uses racists arguments against the relationship between his son and Safi : the color of the skin, the difference of the social sphere and the instruction level.
Safi invents a stratagem for escaping to the pression of her family. she moves to Bamako for helping a friend who gets married but when she arrives she meets her cousin Omar. During that time Laurent recieves a promotion and his boss explains clearly to him that he must to get married and that Safi isn't the good candidate.Getting tipsy by his success Laurent accepts. During that time Safi is waiting for news about Laurent because she feels herself alone. When she comes back to France she becomes to be despressed. Finally she decides to wait in front of the Laurent office and she asks him to tell the truth. The screenplay seems to be written (Safi will get married with Omar and Laurent will get married with a girl who belong to the upper class) but on event will distroy it. A friend of Safi appears when Laurent is becoming to go into the church. She explains that Safi is waiting for him. Laurent leaves the ceremony and goes to meet Safi.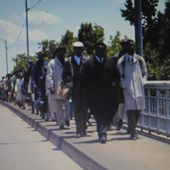 Selma - artetcinemas.over-blog.com
Biopic, Drama, directed by : Ava DuVernay, written credits (written by) : Paul Webb, cast (in credits order) : David Oyelowo, Carmen Ejogo, Jim France, Trinity Simone, Nikeria Howard, Jordan ...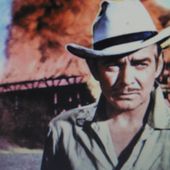 Band of angels - artetcinemas.over-blog.com
Film directed by : Raoul Walsh, writing credit : Robert Warren Penn (novel "Band of Angels"), John Twist, Ivan Goff, Ben Roberts, cast : Clark Gable, Yvonne de Carlo, Sidney Poitier, Efrem Zimbalist
http://artetcinemas.over-blog.com/2015/05/band-of-angels.html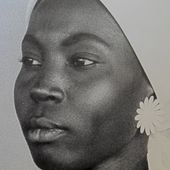 Black girl - artetcinemas.over-blog.com
Drama directed by Ousmane Sembène, writing credits : Ousmane Sembène, cast (in credits order) : M'Bissine Thérèse Diop, Anne - Marie Jelinek, Robert Fontaine, Momar Nar Sesse, Ibrahima Boy, Ber...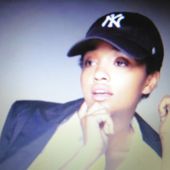 Dope - artetcinemas.over-blog.com
Film directed by : Rick Fumuyiwa, writing credits (in alphabetical order) : Rick Fumuyiwa, cast : Zoë Kravitz, Forest Whitaker, Kiersey Clemons, Blake Anderson, Keith Stanfield, Shameik Moore, Tony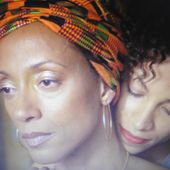 The way you love - artetcinemas.over-blog.com
Family drama, drirected by : Lydia Darly, writing credits (in alphabetical order) : Lydia Darly, cast : Adeline Michele, Karine Plantedit - Bageot, produced by : Jordan Bane, Lydia Darly (executive)
http://artetcinemas.over-blog.com/2016/02/the-way-you-love.html
Directed by Anton Vassil. With Tatiana Rojo, Xavier Jozelon, Teeyah, Jean-Daniel Sessou. An upper class young Frenchman meets an African girl from Mali. Their friends and family put pressure on them
Pour être informé des derniers articles, inscrivez vous :