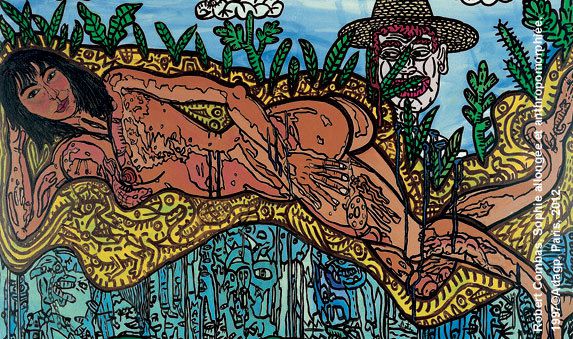 Exhibition from the 7th of august to the11th of september at the Grimaldi Forum, 10 avenue Princesse Grace, 98000 Monaco, open everyday from 10am to 8pm, fee : 10 €.
The both exhibitions (Vence, Monaco) on the french riviera around the Robert Combas art work invoke a certain kind of libertarian and libertine spirit that doesn't exist anymore in our so conformist and so stiff world. The both exhibitions speak about the same artist bu in different ways. The "Combas of Lambert" exhibition showcase us the mist prolific years of his career (1978 - 1993). The "Eighties and nineties" exhibition develop the artist themes.
Influenced by the rockn'roll music (Robert Combas belongs to the duet "Sans pattes" with the musician Lucas Mancione) he uses differents themes inside his canvas : the love, the women (including his own wife Genevieve as model), the battles, the religion, the mythology, the music and gender scenes. He paints his own themes with freedom and respect the details playing with the faces and the bodies. Each paintings reveals a world and also the human passions.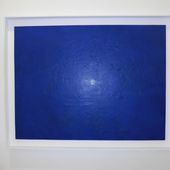 MMACA, the Prom's studio - artetcinemas.over-blog.com
Yves Klein, "IKB", (1960) Exhibition in the Museum of modern art and contemporary art (MMACA), Yves Klein's square, 06000 Nice, open the 12th of june to the 4th of october, all days except monday to
http://artetcinemas.over-blog.com/2015/09/mmaca-the-prom-s-studio.html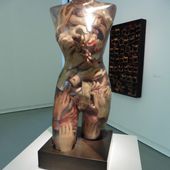 Tribute to Arman - artetcinemas.over-blog.com
Exhibition at the Museum of Modern Art and Contmporary Art, Yves Klein square, 06000 Nice, every days open from 10 am to 6 pm except on monday, phone : 04.97.13.42.01. The art work of Arman speaks ...
http://artetcinemas.over-blog.com/2016/03/tribute-to-arman.html
The Lambert's Combas - artetcinemas.over-blog.com
Exhibition from the 11th of june to the 13th of november at the Vence Museum, Emile Hugues Fondation, 2 place du Frêne, 06140 Vence, phone : 04.93.24.24.23, open all the days except mondays from ...
http://artetcinemas.over-blog.com/2016/07/the-lambert-s-combas.html
Actualités Grimaldi Forum Monaco - Centre des Congrès et Centre Culturel de Monaco
Centre culturel, centre des congrès et lieu d'exposition éco-responsable, le Grimaldi Forum Monaco met à votre disposition ses 35 000 m2 pour vos événements et salons à Monaco.
Pour être informé des derniers articles, inscrivez vous :