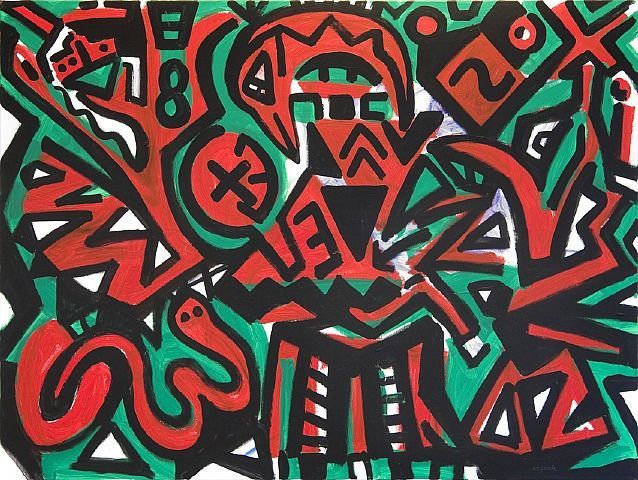 Exhibition at the Maeght Foundation from March 18th to June 18th 2017, 06570 Saint - Paul - de -Vence, open everyday without any exceptions : October - June : 10am to 6pm, July - September : 10am to 7pm.
The Maeght Foundation exhibits the German painter A.R. Penck whose paintings look like rupestrian paintings or street art. Member of the New Fawn movement A.R. Penck born in Dresde October 5th 1939 and dies May 2nd 2017. His artistic career follows the story of his country who was separated after World War Two and unified during the 1990's. During the 1950's A.R. Penck follows artistic studies and works for the press agency of the East German communist party.
A.R. Penck doesn't hesitate to criticize openly the communist system and the fact that democracy doesn't exist inside. The consequence is that he can't integrate the Fine Art school of Dresde and Berlin. The communist political police (the Stasi) will censure his paintings (1969), take his canvas (1977) and at the end destroy by fire his own studio. This police tries to marginalize him in spite off the international prizes he receives (Prize of the Akademie der Künste (1975), ...) but Penck will find his own art style.
In 1980 A.R. Penck succeed to escape to West Germany and to develop his own art style inside the New Fawn movement. His art style favor the vitality and reject all the theories. A.R. Penck uses only lines and graphic symbols for making canvas like the rupestrian art, the street art or also may be the African art. His paintings translate some different feelings like sexuality or fear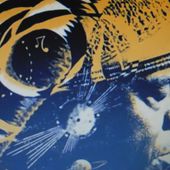 This is not a Museum - artetcinemas.over-blog.com
"The dialog between paintings, dance, poetry and music", exposition at the Maeht fondation, the 29th of november 2014 until the 15th of marz 2015, open all days, october - june 10h. - 18h. and july
http://artetcinemas.over-blog.com/2015/02/this-is-not-a-museum.html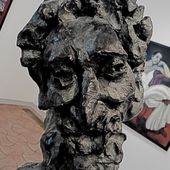 Gerard Garouste, on the way - artetcinemas.over-blog.com
Exhibition at the Maeght Fondation to the 27th june until the 29th november, 623 Gardette's way, 06570 Saint - Paul - de - Vence, open all the days between 10am to 6pm between october to june and ...
http://artetcinemas.over-blog.com/2015/11/gerard-garouste-on-the-way.html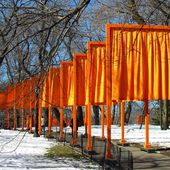 Christo and Jeanne - Claude at the Maeght Foundation - artetcinemas.over-blog.com
Exhibition at the Maeght Foundation from June 4, 2016 to November 27, 2016, open everydays from 10am to 6pm (October - June) and from 10am to 7pm (July - September), Fondation Maeght, 06570 Saint -
http://artetcinemas.over-blog.com/2016/11/christo-and-jeanne-claude-at-the-maeght-foundation.html
Fondation Marguerite et Aimé Maeght | Art Moderne et Contemporain
La Fondation Marguerite et Aimé Maeght est un exemple unique de fondation privée en Europe
Pour être informé des derniers articles, inscrivez vous :