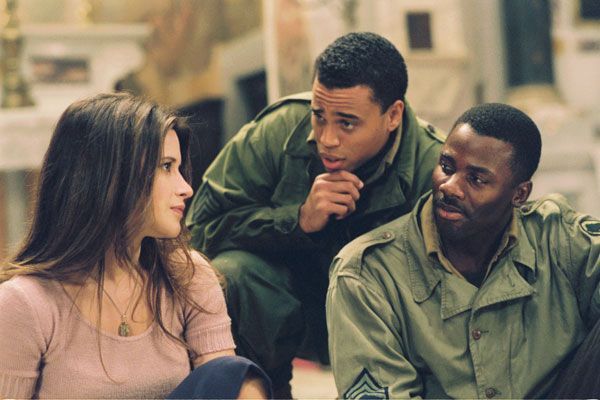 Directed by : Spike Lee, writing credits : James McBride, produced by : Roberto Cicutto, Spike Lee, Luigi Murini, David Pomier, Butch Robinson (executive), Jon Kilik, Marco Valerio Pagini (delegate), 40 acres and a mule Filmworks, On my own, Rai cinema, Touchtone Pictures, Walt Disney studio distribution, LCJ editions and production, cast : Laz Alonso, Derek Luke,Omar Benson Miller, Michael Ealy, Pier Franco Favino, Valentina Cervi, Matteo Sciabardi, John Turturro, cinematography : Matthew Libatique, music : Terence Blanchard, ..., France, Italy, United - States, 160 mn, (2008).
"Miracle at Santa Anna" begins when a post employee Hector Negron kills without any reasons a client in front of him. The police investigates his own appartment and find a head of an antic statue. During that time Negron tells a story to a journalist that has begun in 1944 in Italy. The 92th infantery division of the US Army receives the order to move forward towards the Gothic line. An incompetent and racist sergeant lead a squad that will be killed by the nazis troups. The survivors find a safe place in a village encircle by nazis troups. The events will go forward for the main film characters with a lova affair between the mayor daughter's, partisans coming, a friendship between a GI and a young orphan who has succeeded to escape from the Santa Anna di Stazzema killing and terrible fights against nazis.
During a long time the "Miracle at Santa Anna" has never been shot abroad and so is staying unknown. The distribution subsidiary company of the French TF1 group has refused to promote the movie abroad. TF1 belongs to the producers who have given the money for making the movie near American producers (Spike Lee, Touchstone) and Italian producers (RAI, On my own) but they were frightened by the negative reactions involved by the Spike Lee understanding of the Santa Anna di Stazzema killing. Lee suggests that an Italian partisan has worked for the nazis but many real Italian partisans say that it's untrue. The award winning for "Blakkklansman" at the end of the Cannes Film Festival incite the TF1 group to let the film promotion being developed and "Miracle at Santa Anna" has been shot for the first time at the Deauville Film Festival.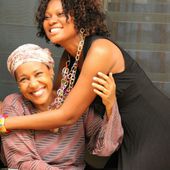 Jerico (the movie) - artetcinemas.over-blog.com
Directed by Seckeita Taylor, writing credits (in alphabetical order) : Brandon Lewis, produced by : Stars Evans, Jeanette Ingram, Willie Ingram, Lesha Wanda Larkin, Brandon Lewis, Seckeita Lewis ...
http://artetcinemas.over-blog.com/2016/09/jerico-the-movie.html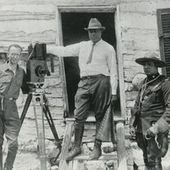 Oscar Micheaux - artetcinemas.over-blog.com
Short movie, fiction, drama, selected for the "Short Corner" at the last Cannes Film Festival, directed by : Jamie Walker, production : Valentina Misina, cast : Napoleon Douglas, Kim Estes, Arthur ...
http://artetcinemas.over-blog.com/2017/09/oscar-micheaux.html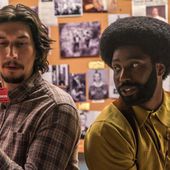 BlacKkKlansman (infiltrate hate) - artetcinemas.over-blog.com
Directed by : Spike Lee, Writing credits : Ron Stallworth, Spike Lee, Charlie Watchel, David Rabinowitz, Kevin Willmott, produced by : Jason Blum, Marcei A Brown (executive), Matthew A Cherry ...
http://artetcinemas.over-blog.com/2018/09/blackkklansman-infiltrate-hate.html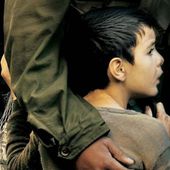 Directed by Spike Lee. With Derek Luke, Michael Ealy, Laz Alonso, Omar Benson Miller. Set in 1944 Italy, the story of four black American soldiers who get trapped in a Tuscan village during WWII.
Pour être informé des derniers articles, inscrivez vous :