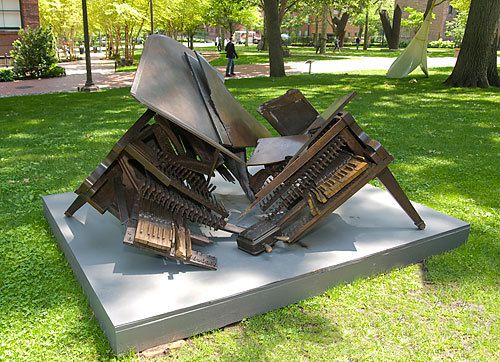 Exhibition at the Vence Museum, Emile Hugues Fondation from June 28 to December 15 2019, 2 square of the Frêne, 06140 Vence, open daily from 11am to 6pm except Mondays, phone : 04.93.58.15.78
This exhibition begins with the distroyed piano sculpture names "Accord Parfait" (2004) who tributes the Arman way of thinking. For making this sculpture Arman has inspired himself by the famous surrealist silent movie "An andalusian dog" (1929) directed by Luis Bunuel in which the main character shoots with a weapon on two pianos. The script written by Bunuel and Dali indicates that these two pianos keep many souls inside. Arman belongs to a generation who never throw any objects and own them during all the life. His purpose was to give new life to the objects he put inside his sculptures. For arousing the reaction of the public about the history of consumption he doesn't hesitate to break some objects with an axe in front cameras during filmed artistic performances.
Arman and Cesar are in charge - artetcinemas.over-blog.com
Exhibition from the 27th of April to the 19th of September 2016 at the Espace Donation Ferrero, 1 Place Gaultier, 06364 Nice Cedex 4, open all the days from 10am to 6pm, except mondays, phone : ...
http://artetcinemas.over-blog.com/2016/08/arman-and-cesar-are-in-charge.html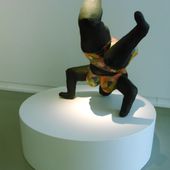 About Nice : 1947 - 1977 - artetcinemas.over-blog.com
Exhibition from June 23rd to October 22nd at the MAMAC, open everyday except Monday from 10am to 6pm, Promenade des Arts, Place Yves Klein, 06364 Nice, phone : 04.97.13.42.01 The city of Nice ...
http://artetcinemas.over-blog.com/2017/07/about-nice-1947-1977.html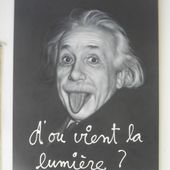 Ben and his guests, life is a movie - artetcinemas.over-blog.com
Exhibition at the 109 between June 15 and October 2019, 89 Turin street, 06300 Nice, open from Thursdays to Saturdays (1pm to 6pm), phone : 07.66.38.02.02, admission free. During the biennial ...
http://artetcinemas.over-blog.com/2019/06/ben-and-his-guests-life-is-a-movie.html
Pour être informé des derniers articles, inscrivez vous :