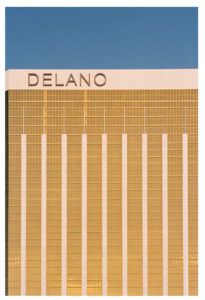 The French photographer Tom de Peyret graduated from the Ecole cantonale d'art de Lausanne begins by interesting himself with Las Vegas during a trip when he finds himself just in front of the Trump Tower. He decides to go back and takes as reference a book names "Learning from Las Vegas" written by three architects Denise Scott Brown, Robert Venturi and Steven Izenour in 1972. These three architects describe the city as a playing field where the building design seems to be different but finds his roots in the 1950's. Tom de Peyret doesn't try to underline the building design because he just want to show us their minimalist side. He succeeds to do that by climbing up to the top for having a view on the skyline without any people. These buildings need a lot of electricity and it involves consequences on nature. Since the 1930's the Hoover dam gives the energy but now with the climate changing people must search new sources. Tom de Peyret shoot the dam but also three new solar power station who represent the Las Vegas future.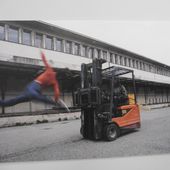 Photographic exhibition Frederic Pasquini - artetcinemas.over-blog.com
About the artistic project "la Ferme !" (shut up) from the Antipodes Company, la traverse la cour interieure, The 109nice, 89 Turin street, 06300 Nice, open from Wednesday to Saturday and from 1pm ...
http://artetcinemas.over-blog.com/2018/05/photographic-exhibition-frederic-pasquini.html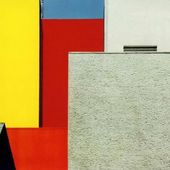 Franco Fontana, Skylines - artetcinemas.over-blog.com
Exhibition from June 1rst to September 30th, 2018 at the Photography Museum, 1 Pierre Gautier square, 06000 Nice, open from Tuesday to Sunday and from 11am to 6pm, ticket : 6 €. Franco Fontana ...
http://artetcinemas.over-blog.com/2018/06/franco-fontana-skylines.html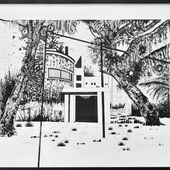 Drawing, differently - artetcinemas.over-blog.com
Exhibition from January 25th to June 14th 2020 at the Vence Museum, daily open (11am - 6pm) except Mondays, Frêne square 2, 06140 Vence, phone : 04.93.24.24.23, ticket full price : 6€ For the se...
http://artetcinemas.over-blog.com/2020/01/drawing-differently.html
Tom de Peyret (1986) is an independent photographer based in Paris. Personal work and exhibitions can be seen on demand. 126 rue du Faubourg Saint-Martin, 75010 Paris. +33 651253605 me@tomdepeyret.com
Pour être informé des derniers articles, inscrivez vous :