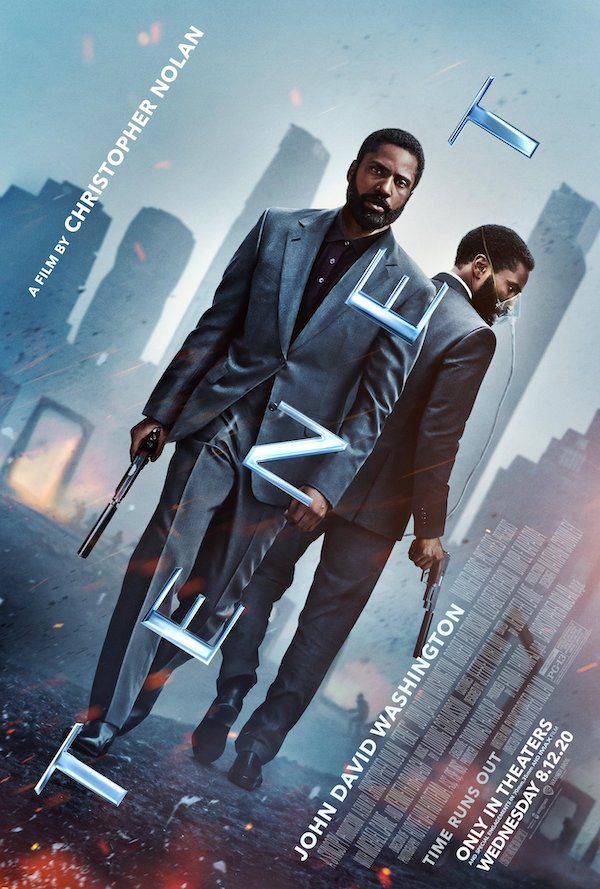 Directed by : Christopher Nolan, writing credits : Christopher Nolan, produced by : Ivo Felt (Line producer), Thomas Hayslif, Christopher Nolan (pga), Dileep Singh Rathore, Emma Thomas (pga), Warner Bros., Syncopy Films, cinematography : Hoyte Van Hoytema, music : Ludwig Göransson, film editing : Jennifer Lane, cast : John David Washington, Robert Pattinson, Elizabeth Debicki, Kenneth Branagh, Aaron Taylor Johnson, Michaël Caine, ... , 150mn , (2020).
The movies directed by Christopher Nolan own always something special infiltrating subconscious ("Inception"), giving quantum informations ("Interstellar") or playing with time flexibility ("Dunkerque"). This specificity can also be used for Christopher Nolan Batman trilogy. He succeeds all the time to take high budgets from the US studios (100 millions $ for "Dunkerque" and 200 millions for "Tenet") for directing cerebral films but now the challenge seems to be different. The Covid has twisted the films calendar until 2021 and "Tenet" could save the motion picture industry from a collapse. A secret agent withou any sense of humor in spite of the fact that Nolan is a James Bond fan follows the purpose saving the planet from a Russian leader. This agent doesn't belong to CIA or MI6 and asks all the time to people he meets the name of their boss. Nolan likes the space breaks and each characters is confrontated to his double coming form the future. The double character can easily be identified because it does everything in reverse side (driving, running, walking, speaking) and also translate the Nolan's obsessions meaning inversing the curve of time. For directing his movie Nolan works with the same collabortors since 2002. Belonging to his crew is something difficult because you need to know well your job and to keep watching silence because Nolan takes the control of everything on the set.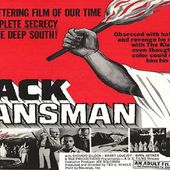 The Black klansman, I crossed the color line - artetcinemas.over-blog.com
Drama, directed by : Ted V Mikels, writing credits (alphabetical order) : Art Nemes, John T Wilress, cast : Richerd Gilden, Rima Kutner, Harry Lovejoy, Mae Julien, Jakie Deslonde, James Mc ...
http://artetcinemas.over-blog.com/2019/03/the-black-klansman-i-crossed-the-color-line.html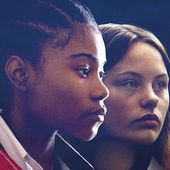 Zombi Child (film) - artetcinemas.over-blog.com
Director / screenwriter : Bertrand Bonello, production : My New Pictures, Les Films du Bal, ARTE France Cinema, Playtime, Bertrand Bonello, Judith Lou Lévy, Eve Robin, Anita Roth, music : Bertrand...
http://artetcinemas.over-blog.com/2019/08/zombi-child-film.html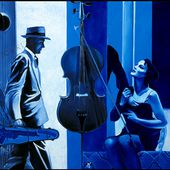 Monory - artetcinemas.over-blog.com
Exhibition at the Maeght Foundation from July 1rst to November 22nd 2020, 623 chemin des Gardettes, 06570 Saint - Paul - de -Vence, daily open (10am - 7pm), ticket full price : 16€. The Monory ...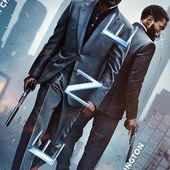 Directed by Christopher Nolan. With John David Washington, Robert Pattinson, Elizabeth Debicki, Juhan Ulfsak. Armed with only one word, Tenet, and fighting for the survival of the entire world, a ...
Pour être informé des derniers articles, inscrivez vous :