Exhibition of 70 Sosno masterpieces from October 17 2020 to March 28 2021 at the Archaeological Museum of Nice / Cimiez, 160 Arena avenue, daily open except Tuesdays (10am - 6pm), phone : 04.93.81.59.57
The exhibition "Sosno squats the Antiquity" follows the goal underlining the Camenelum vestiges by using the Sosno statues and creating also a dialog between Antiquity and contemporary art. Sosno is the most available people for doing that because the sculptor really loves this period of time. During is own childhood he lives in the Regina hotel with Matisse as neighbourg and he spends some time visiting the Camenelum ruins composed by baths, houses, roads and a church. When he does his military service in the city of Toulouse he makes excavations with professionnal archaeologists and succeed to find some Roman vestiges. Sosno shares with archaeologists the will to understand but theirs methods are different. The archaeologists discover vestiges and highlight them in museums. Sosno prefers obliterating faces and bodies of his sculptures for showing more. He takes back to a single moment of history (Antiquity) by using empty (throwing matter) and also full (introducing matter). Sosno invents and develops the obliteration way of making during wars (Biafra, Ireland, Irak) he covers as reporter. Face to face with horror he asks himself if he can show the truth without schoking somebody. The obliteration way of doing answers to this question by hiding and stoping time for accentuating the instant.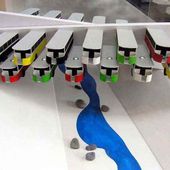 Guy Rottier, archives of the future - artetcinemas.over-blog.com
Exhibition at the Nice Town Planning and Architecture Forum, the 109, 89 Turin street, 06000 Nice, open from Monday to Friday, from 1pm to 5pm, phone : 04.97.12.71.11, admission free. The architect
http://artetcinemas.over-blog.com/2018/02/guy-rottier-archives-of-the-future.html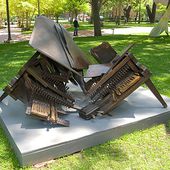 Arman, the new state of the things - artetcinemas.over-blog.com
Exhibition at the Vence Museum, Emile Hugues Fondation from June 28 to December 15 2019, 2 square of the Frêne, 06140 Vence, open daily from 11am to 6pm except Mondays, phone : 04.93.58.15.78 This...
http://artetcinemas.over-blog.com/2019/07/arman-the-new-state-of-the-things.html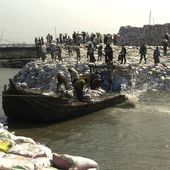 Ursula Biemann, indigenous knowledge, cosmological fictions - artetcinemas.over-blog.com
Exhibition at the Museum of Modern and Contemporary Art (MMCA) of Nice from August 28th 2020 to January 17th 2021, Yves Klein square, 06364 Nice, Cedex 4, daily open except Mondays (11am - 6pm) ...
http://artetcinemas.over-blog.com/2020/09/ursula-biemann-indigenous-knowledge-cosmological-fictions.html
Accueil - site de la ville de Nice
Site de la Ville de Nice
Pour être informé des derniers articles, inscrivez vous :