Exhibition at the Luxembourg Museum until March 3 2021, with the support of RNM, le Grand Palais and the city of Marseille, 75 Vaugirard steeet, 75006 Paris, daily open (1.30 am - 7pm), phone : 01.46.34.31.19, ticket full price : 13€.
The exhibition "Man Ray and the fashion, the woman universe" deals with an unknown part of the photographer Man Ray art work. During the roaring twenties he understands that fashion will take a higher part in the modern societies and he decides after having invented the solarisation process with Lee Miller to become fashion photographer. Man Ray improves a real fascination for woman body he wants to highlight for underlining the sensuality. He uses the writing press rising between 1918 to 1939 for making some fashion photographies because he knew that papers really need this kind of pictures. He begins by shooting his nearest people (Kiki de Montparnasse, ...) and after his American friends and women belonging to the upper class. In 1933 he collaborates with the famous fashion magazine Harper Bazaar and always tries to build links between fashion press and vanguard press because his pictures own a surrealistic influence. Man Ray doesn't hesitate starting working again the pictures he made for underlining curves without having other ideas just following experimental ways. He will stop doing fashion pictures in 1939 when he moves to United - States escaping WWII for beginning a career as painter.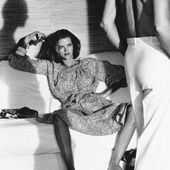 Helmut Newton, Icons - artetcinemas.over-blog.com
Inaugural exhibition at the Museum of the photography from the 17th of February to the 28th of May 2017, 1 Place Pierre Gautier, 06000 Nice, open everyday except Monday from 11am to 6pm. The ...
http://artetcinemas.over-blog.com/2017/03/helmut-newton-icons.html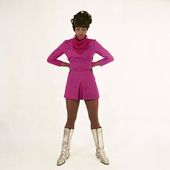 The photography for James Barnor - artetcinemas.over-blog.com
The Ghanaian photographer James Barnor comes from a family where a lot of people (mother, cousins) are attracted by shooting. This autodidact is born June 6, 1921 in Accra the capital of Ghana and ...
http://artetcinemas.over-blog.com/2018/01/the-photography-for-james-barnor.html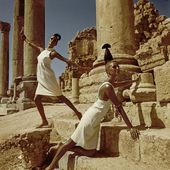 Outside fashion, fashion photography from the studio to exotic lands (1900 - 1969) - artetcinemas.over-blog.com
Exhibition at the Huis Marseille Museum of Photography, Keizersgracht 401, 1016 EK Amsterdam, open from Thursdays to Sundays (11 am to 6 pm), closed Mondays, phone : 020 - 5318989. When Diana ...
http://artetcinemas.over-blog.com/2020/04/outside-fashion-fashion-photography-from-the-studio-to-exotic-lands-1900-1969-7.html
Les étudiants du Conservatoire national supérieur d'Art dramatique lisent les premiers chapitres de "L'anomalie", de Hervé Le Tellier, Prix Goncourt 2020 Exposition Man Ray et la mode Suite aux ...
Pour être informé des derniers articles, inscrivez vous :