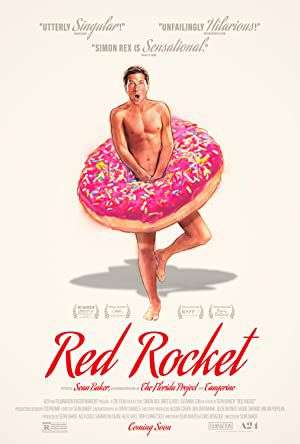 Feature movie directed by : Sean Baker, writing credits : Sean Baker, Chris Bergoch, produced by : A24, le Pacte, Film Nation Entertainment, Cre Film, Sean Baker, Glen Basnor, Ben Browing, Alex C., Alison Cohen, Milan Popeka, Samantha Q, Alex Soks, Jackie Shenoo, S.C.Trou, Mariella Villa, Erin Yarbrough, cinematography : Drew Daniels, film editing : Sean Baker, music : Roman Molino Dunn, Matthew Hearon Smith, Jockey Mishac, cast : Simon Rex, Bree Elrod, Brenda Deiss, Suzanna Son, Ethan Darbone, ..., 130mn, (2021).
Since "Tangerine" (2015) and "The Florida project" (2017) the film director Sean Baker shots the losers of the american dream out the system and using ressourcefulness for living until killing themselves each others. Mickey (Simon Rex) former X rated movies actor goes back to his birth city Texas City after leaving it several years ago for building a new life in L.A. He arrives there by bus wearing dirty clothes and only with twenty dollars. The suburb Texas City stays near an oil rafinery among small and uggly houses inside an universe dominated by the horinzontality. Mickey knocks to the house door of his former wife Lexi (Bree Elrod) and also his mother (Brenda Deiss) who aren't very happy seing him again. For being accepted by the both He should follow all their orders. The Simon Rex actor performs as Mickey a man addict to celebrity and ready to do everything (dealing drug, trying to become a pimp with a young and innocent woman) for becoming famous. Educated by a single woman Simon Rex begins his career as mannekin before playing in several sitcoms. His rising stops when a sextape done with him at 19 years old is duplicated on social networks. Appreciate by the critics in Cannes Film Festival and awarded at the Deauville Festival the "Red Rocket" movie make us thinking about the "Accatone" directed by Pier Paolo Pasolini in 1961. The main characters of these movies lives in poor suburbs and exploit the weak people without any pity but Baker and Pasolini speaks about this type of guy following two different point of view. Pasolini highlights the Accatone way of making and Baker show us what Mickey really is.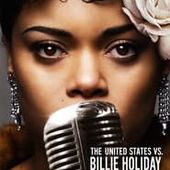 The United States vs Billie Holiday - artetcinemas.over-blog.com
Movie directed by : Lee Daniels, Writing credits : Susan Lori Parks, Johann hari (based on his book "Chosing the scream, the first and last days of the war on drugs"), produced by : Jordan Fudge ...
https://artetcinemas.over-blog.com/2022/01/the-united-states-vs-billie-holiday.html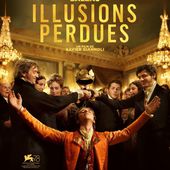 Lost illusions - artetcinemas.over-blog.com
Feature movie directed by : Xavier Giannoli, writing credits : Jacques Fieschi, Xavier Giannoli from the novel "Lost illusions" written by Honoré de Balzac (1837), produced by : Olivier Delbosc ...
https://artetcinemas.over-blog.com/2022/01/lost-illusions.html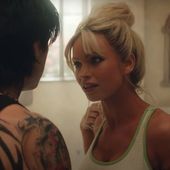 Pam and Tommy - artetcinemas.over-blog.com
TV serie, 8 episods, directed by : Craig Gillespie, writing credits : Robert Siegel, cinematography : Paula Huidobro, producers : Megan Ellison, Dave Franco, Evan Goldberg, Sue Naegel, Seth Rogan ...
https://artetcinemas.over-blog.com/2022/02/pam-and-tommy.html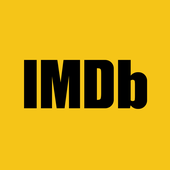 IMDb: Ratings, Reviews, and Where to Watch the Best Movies & TV Shows
IMDb is the world's most popular and authoritative source for movie, TV and celebrity content. Find ratings and reviews for the newest movie and TV shows. Get personalized recommendations, and learn
Pour être informé des derniers articles, inscrivez vous :