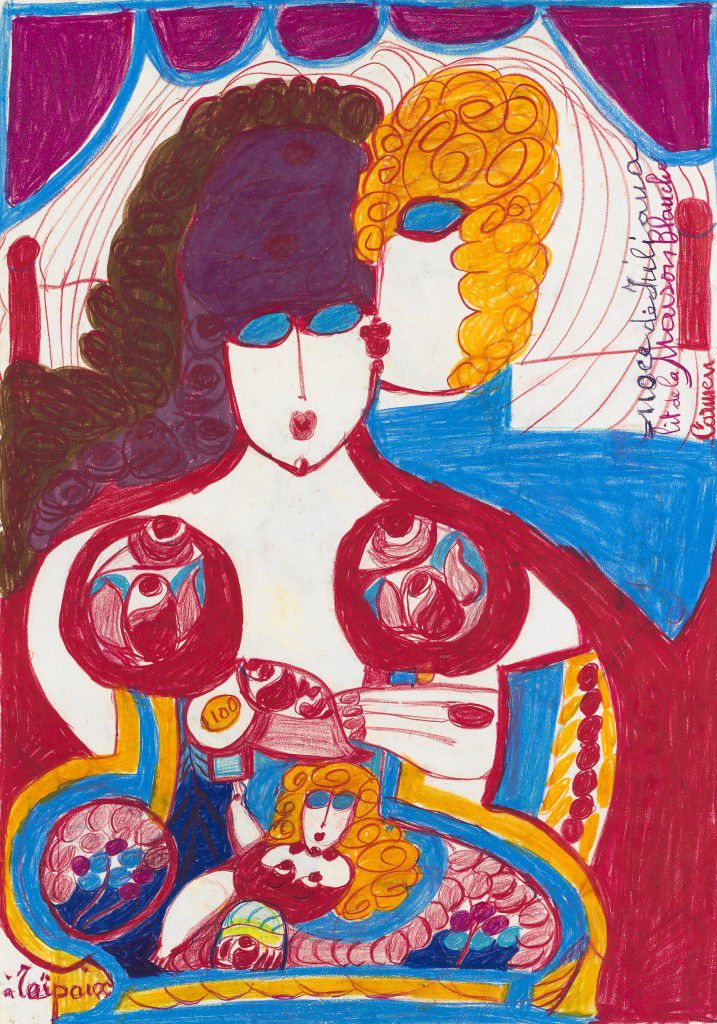 Collective exhibition at the Chave art gallery from July 20 2022 to december, 12 and 13 Isnard street, 06140 VENCE, phone : 04.93.58.0345 and 06.42.59. 41.88, admission free.
Everything begins when psychiatrists begin to take an interest about work made by their patients inside institutions because they want to understand it for finding the good treatment but they didn't understand first that it was art. Some of these works stay now in museums all over the world includind the famous of Lausanne. Raw art is also the one of unclassifiable people far from intellectual world without following art studies and leaded by spontaneous way of doing as Jean Dubuffet said in 1963. Art galleries exhibit raw art but only specialized like Drouin in Paris or Chave in Vence because at the beginning the art critics don't like it and people reject it. In spite of that Raw art becomes to be important because it receives the support of famous people like Jean Paulhan, Jean - Paul Sartre, André Malraux, Henri Michaux and Jean Dubuffet. The Chave gallery open his doors in 1947 and the owner Alphonse Chave decides under the advises of Jean Dubuffet to organize and exhibition puting together all the raw artists they can find around them ten years after the potent Drouin exhibition in Paris (1949). The visitor can watch now drawings or sculptures showing intense feelings towards lines or colors highlighting the will to say someting deep.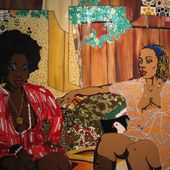 Mickalene Thomas, Jet : Beauties of the month - artetcinemas.over-blog.com
Exhibition at the Nathalie Obadia art gallery from September 25 2019 to November 16 2019, 3 Cloître - Saint - Merri street, Paris 4e, phone : 01.42.74.67.68, open from Moday to Saurday (11am - 7pm)
https://artetcinemas.over-blog.com/2019/11/mickalene-thomas-jet-beauties-of-the-month.html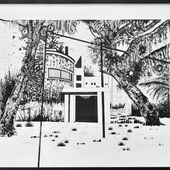 Drawing, differently - artetcinemas.over-blog.com
Exhibition from January 25th to June 14th 2020 at the Vence Museum, daily open (11am - 6pm) except Mondays, Frêne square 2, 06140 Vence, phone : 04.93.24.24.23, ticket full price : 6€ For the se...
https://artetcinemas.over-blog.com/2020/01/drawing-differently.html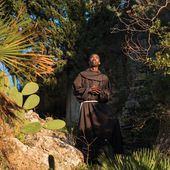 Binidittu - artetcinemas.over-blog.com
Each year in September the San Fratello people curry up towards the streets the statue of a saint named Binidittu (San Benedetto il Mauro). This holly man has been ignored for a long time by the ...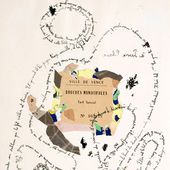 Madeleine Chave serait heureuse de votre présence à l'inauguration de l'exposition ART BRUT ET VOISINAGE Les Inclassables Autodidactes Bricoleurs de génie Visionnaires L'exposition Art Brut et ...
Pour être informé des derniers articles, inscrivez vous :