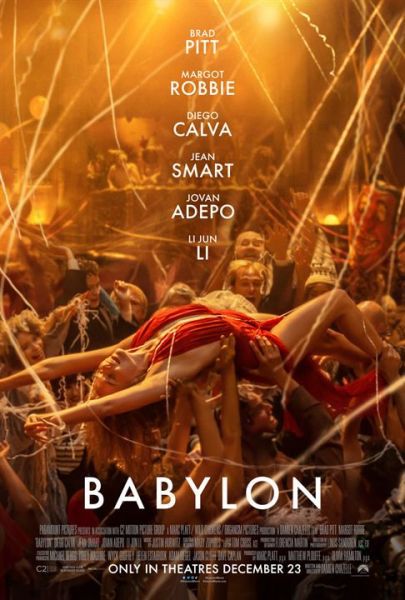 Feature movie, directed by : Damian Chazelle, writing credits : Damian Chazelle, produced by : Olivia Hamilton, Marc Platt, Matthew Plouffe, Tobey Maguire, Michel Beugg, Helen Estabrook, Adam Siegel, Padraic Murphy, Matt Platt Productions, Material Pictures, Paramount, cinematography : Linus Sandgren, film editing : Tom Cross, music : Justin Hurwitz, cast : Brad Pitt, Margot Robbie, Diego Calva, Jean Smart, Jovan Adepo, Li Jun Li, Olivia Hamilton, ..., (2023), 189 mn.
The film director and script writer Damian Chazelle uses a lot the Kenneth Anger book "Hollywood Babylon" written in 1959 for talking about the spirit of Hollywood before the end of silent films and the Hayes code (1934). The missing of the young actress Virginia Rappe during a party in Arbuckle's house is the begenning of changings in California with the expropriations of non white people and new restrictives laws about private life. The young Latino Manuel Torrès works for the Kinescope studio and has the goal being film director. During the first fourty minutes of "Babylon" a big party with drug, alcool and music happens and the young starlet Nellie Leroy becomes friend with Manuel. She will succeed to integrate the star system among Mae West, Jean Harlow and Mary Pickford after the malaise of the actress Jane Thornton. Manuel is the assistant of the actor Jack Conrad a mix between John Gilbert and Douglas Fairbanks and he also helps him moving back home when he has drunk a lot. Conrad thinks that Hollywood stays as a dreamland where everything is possible but in October 1927 he asks Manuel watching "The jazz player" the first talking film. Manuek understands quickly that this kind of movies will change the motion picture industry and end the careers of many actors and actresses because speaking stays something more important than physical. He tries to help Nellie and Jack curing their addictions but doesn't succeed and must going out California for finding a safe place far from gangsters. During the 1950's Manuel visits Los Angeles with his family and reminds the time he has spent there like other former movie professionnals living in nostalgia. The conservative lawyer William Hayes has built a code leading the motion picture industry until the 1960's and now a new type of censorship the social networks leads movie making building and breaking some careers. The potent character of "Babylon" the actor Brad Pitt says that appreciating time is something important and we must look at others film making countries like Africa or India.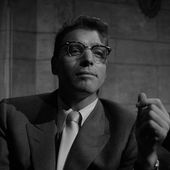 Sweet smell of success - artetcinemas.over-blog.com
Drama, directed by : Alexander Mackendrick, writing credits : Clifford Odets, Ernest Lehman, Alexander Mackendrick, porduced by : Tony Curtis, Harold Hecht, James Hill, Burt Lancaster, United ...
https://artetcinemas.over-blog.com/2021/01/sweet-smell-of-success.html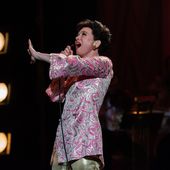 Judy - artetcinemas.over-blog.com
Biopic directed by : Rupert Goold, writing credits : Tom Edge, production : 20th Century Fox, BBC Film, Calamity Films, Pathé, Roadside Attractions, LD Entertainment, cinematography : Ole Brait ...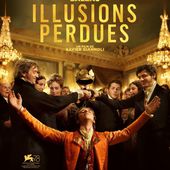 Lost illusions - artetcinemas.over-blog.com
Feature movie directed by : Xavier Giannoli, writing credits : Jacques Fieschi, Xavier Giannoli from the novel "Lost illusions" written by Honoré de Balzac (1837), produced by : Olivier Delbosc ...
https://artetcinemas.over-blog.com/2022/01/lost-illusions.html
Pour être informé des derniers articles, inscrivez vous :