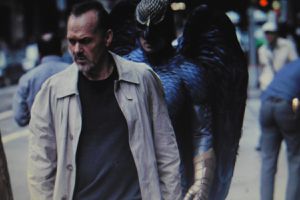 Directed by : Alejandro Gonzalez Inarritu, writting credits : Alejandro Gonzalez Inarritu, Nicolas Giacobone, Alexndre Dinolaris, Armando Ba, Raymond Carver, cast (in credits order) : Michael Keaton, Emma Stone, Kenny Chin, Jamahi Garrison - Lowe, Zach Galifionakis, Naomi Watts, Jeremy Shamas, Andrea Rixeborough, Katherine O'Sullivan, Damian Young, Keanan Shimizu, Akira ito, Natlie Gold, Merritt Wever, Edward Norton, Michael Siberey, Clark Middleton, Amy Ryan, ..., produced by : Deolly Cannon, Sarah E. Johnson, Christopher Woodrow (executive producers), Alejandro Gonzalez Inarritu, John Lesher, Arnon Milchan, James W. Sketchdopole (producers), Armando Ba, Alexander Dinelaris, Nicolas Giacobone, Drew P. Haupt, Chrisitna Won (associate producers), music by : Antonie Sanchez, cinematography by : Emmanuel Libezki, film editing by : Douglas Crise, Stephan Missione, casting by : Francine Maisler, production design by : Kevin Thompson, art direction by : Stephan H. Carter, set decoration by : Georges DeTitta Jr., costume design by : Albert Waisky, makeup department : Judy Chin, Jony Papolis, ..., production management : Eric Bergman, Robert graf, Erica Kay, Jim Kantor, Gabrielle Mahon, Alex G. Scott, James W. Skatchdopole, Michael Tinger, Frederik Joly, second unit director : Catherine Fany, Peter Kahn, Amy Lauritsen, ..., art department : Joe Dzuben, Albert Gasser, Aaron Glascock, Glynna Grimala, Martin Hernandez, ..., special effects by : Conrad V. Brink Jr., Johann Kunz, ..., visual effects by : Ivy Agregon, Ashley Bettini, ..., stunts : Stephan A. Pope, ...
Alejandro Gonzalez Inarritu has realised five years after the success of "Biutiful" and the award for Javier Bardem at the Cannes Film Festival an atypical and unclassifiable film. "Birdman" is a complete and lucid parabola about the entertainement world. "Birdman" is a film who really correspond to the Michael's Keaton personnality because this story follows a part of his acting career. The director knows that Michael Keaton has already performed to the ending of the eighties until the biginning of the nineties the superhero Batman under the direction of Tim Burton. He has played in "Batman" and "Batman returns" but refused to play anymore in "Batman forever" because Tim Burton leaves the direction of the film and his substitute wants to make something more funny.
Michael Keaton performs Riggan Thomson a depased Hollywood actor who was a star of the Birdman serie twenty five years ago. Like Michael Keaton he doesn't want to perfom Birdman anymore. For restarting is own career he tempts to produce the play of the Raymond Carver novel called "What we talk about when we talk about love" in a theather on Broadway. This novel has been written in 1981 and speaks about the love affairs of an american cardiologist.
The director multiplies the sequence shots creating interconnected moments for forcing the actors around Michael Keaton to perform like in theater. These scenes have been shooted chronologically. This way of shooting is very unusual for sequence shots film but it's very usefull for understanding the Riggan's psychology. Michael Keaton has doing the same introspection during his acting career. All the time he looks for himself, seems to be undecided and hesitate a lot befor giving his agreement for a character. But he agrees if the director can find the right words.
Riggan Thomson will confront and should resolve many problems with an incontrollable actor, his ex - junkie daughter and a very vicious theatercritic. "Birdman" shows the other side of acting with anxiety, decadence, pressure and also with magic moments. The cameras follow the actors and actresses to the set until their dressing rooms. The cameras show us discussions of anthology between Riggan Thomson and the actors specially with character performed by Edward Norton.
"Birdman" is also a critic of a kind of celebrity : the celebrity acquise on social networks like You tube. The social networks favor the immediacy but the immediacy gives a wrong perception of reality. The geaks know well Riggan Thomson when he performs Birdman but they can't imagine him producing a piece of theater. "Birdman" denounces the screenplays based only on the special effects.
"Birdman" has won several awards in the award ceremony 2015 (best film, best director, best screenplay, best photography) but the actors have never recieve any awards. It's funny for a movie who speaks about actors and acting.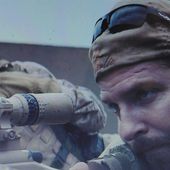 American sniper - artetcinemas.over-blog.com
Biopic, directed by : Clint Eastwood, writing credits : Jason Hall, Chris Kyle, Scott McEwan, James De Felice, cast (in credits of order) : Bradley Cooper, Kyle Gallner, Cole Kanis, Ben Read, Elise
http://artetcinemas.over-blog.com/2015/03/american-sniper.html
Selma - artetcinemas.over-blog.com
Biopic, Drama, directed by : Ava DuVernay, written credits (written by) : Paul Webb, cast (in credits order) : David Oyelowo, Carmen Ejogo, Jim France, Trinity Simone, Nikeria Howard, Jordan ...
Birdman: Or (The Unexpected Virtue of Ignorance) (2014)
Directed by Alejandro González Iñárritu. With Michael Keaton, Zach Galifianakis, Edward Norton, Andrea Riseborough. A washed-up actor, who once played an iconic superhero, battles his ego and ...
Michael Keaton, Actor: Birdman: Or (The Unexpected Virtue of Ignorance). Quirky, inventive and handsome US actor Michael Keaton first achieved major fame with his door busting performance as fast ...
Alejandro González Iñárritu, Writer: Birdman: Or (The Unexpected Virtue of Ignorance). Alejandro González Iñárritu (Spanish pronunciation, ih-nyar-ee-too; born August 15, 1963) is a Mexican f...
Pour être informé des derniers articles, inscrivez vous :